Graeff正式启动全新Logo
Graeff officially launched the new Logo

Graeff 在全新Logo中明确了公司核心业务方向,增加了Measurement & Control Systems(测量与控制系统)的描述。
Graeff clarified the company's core business direction in the new Logo and added the description of Measurement and Control Systems.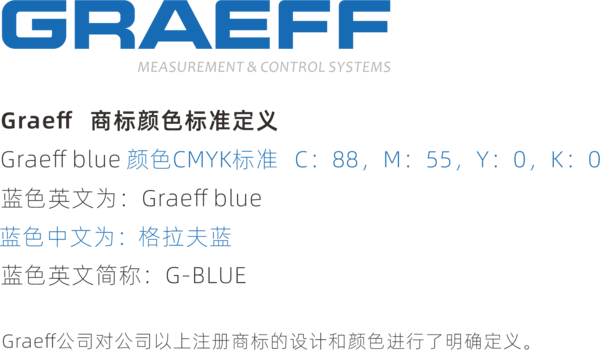 (以上logo为Graeff公司注册商标,未经允许禁止侵权)
Graeff 公司对全新Logo的颜色进行完整定义,全新Logo颜色的调配由毕业于英国皇家艺术学院的以色列裔英国籍设计师Basil完成,定义为:Graeff blue,简称为:G-BLUE,中文定义为:格拉夫蓝。
Graeff Company has fully defined the color of the new Logo. The color matching of the new Logo was completed by Basil, an Israeli-British designer who graduated from the Royal College of Art. The definition is: Graeff blue, abbreviated as: G-BLUE.

(以上原logo为Graeff公司注册商标,未经允许禁止侵权)
Graeff公司保留老客户的对原有Logo的需求,如果客户需要,Graeff公司依然会提供原有logo的产品。
Graeff Company retains the old customer's demand for the original logo. If the customer needs, Graeff Company will still provide products with the original logo.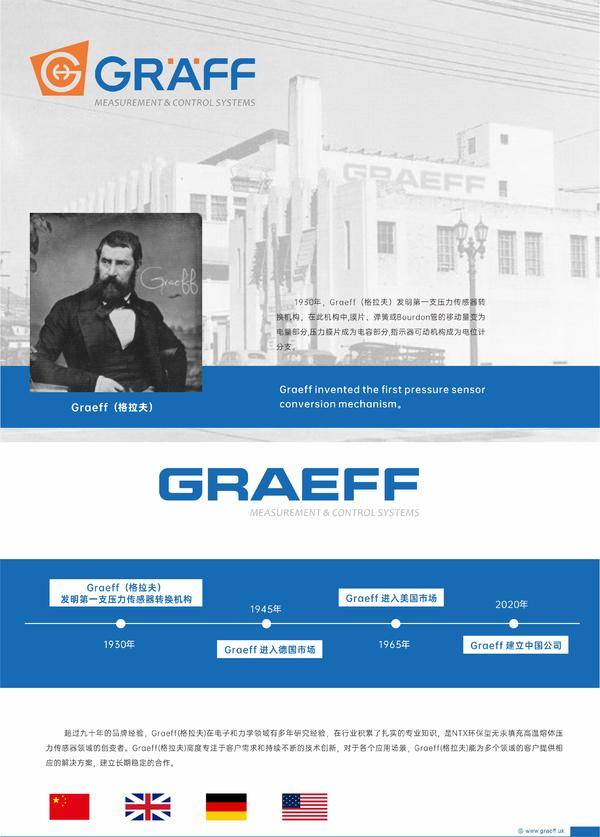 Graeff源于1930年,是一家专注于压力传感器、熔体压力传感器、温度传感器、工业传感器、智能传感器、流量传感器、智能传感器、位移传感器、液位传感器、压力温度控制仪表、压力表、加热器、激光技术、压力与温度校验系统、物联网以及自动化控制系统研发、生产和销售的欧洲跨国集团公司。
Since 1930, Graeff is a company specializing in pressure sensors, melt pressure sensors, temperature sensors, industrial sensors, smart sensors, flow sensors, smart sensors, displacement sensors, liquid level sensors, pressure and temperature control instruments, pressure gauges, heaters , laser technology, pressure and temperature calibration system, Internet of things and automation control system research and development, production and sales of European multinational group companies.
Graeff在英国、德国、美国、中国、香港等多个国家建立和工厂或办事机构;Graeff产品主要用于食品、制药、生物技术、化工、石油化工、能源工业、电站、污水处理、航海造船工业、环境工程、喷涂设备、塑料、化纤、橡胶、制药、冶金、石油化工、汽车制造、陶瓷玻璃、无人机、机器人系统、航空航天、矿业机械、工程机械等领域。
Graeff has established factories or offices in the United Kingdom, Germany, the United States, China, Hong Kong and other countries; Graeff products are mainly used in food, pharmaceutical, biotechnology, chemical, petrochemical, energy industry, power plants, sewage treatment, marine and shipbuilding industries , environmental engineering, spraying equipment, plastics, chemical fibers, rubber, pharmaceuticals, metallurgy, petrochemicals, automobile manufacturing, ceramic glass, drones, robotic systems, aerospace, mining machinery, construction machinery and other fields.

Graeff开放创新,专注于传感器与测量技术的数字化、智能化、环保化创新,将互联网平台、全球化研发体系以及本地业务需求相结合,开发满足全球客户需求的创新产品和测量控制解决方案,为产业智能制造转型升级注入新的活力。
Graeff is open and innovative, focusing on the digital, intelligent, and environmentally friendly innovation of sensors and measurement technologies. It combines the Internet platform, global R&D system and local business needs to develop innovative products and measurement control solutions that meet the needs of global customers. The transformation and upgrading of industrial intelligent manufacturing has injected new vitality.